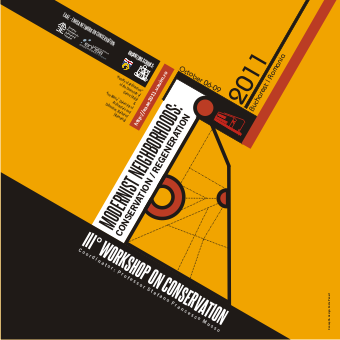 MODERNIST NEIGHBORHOODS: CONSERVATION/REGENERATION
III° EAAE workshop on Conservation
Bucharest, Romania - October 06 - 09, 2011
Coordinator: Professor Stefano Francesco Musso
Scientific Committee:
Professor Rodica Crişan (Bucharest)
Professor Giovanna Franco (Genoa)
Professor Loughlin Kealy (Dublin)
Professor Stefano Francesco Musso (Genoa)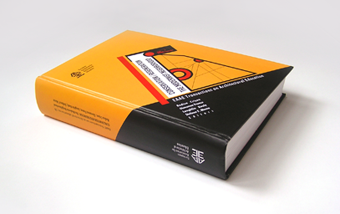 EAAE Transactions on architectural education no. 58
Editors: Rodica Crişan, Giovanna Franco, Loughlin Kealy, Stefano F. Musso
Copy-editor and proof-reader: Anna Kealy
Graphic design: Andra Panait
Published by EAAE - Kastel van Arenberg 1, B 3001 - Leuven, Belgique - 2012
ISBN: 978-2-930301-57-0
Printed in Romania — Smart Print, Bucharest — March 2013
The III° workshop on conservation (after the II° - Ireland, September 2009) proposes to explore the contribution that conservation/restoration disciplines can offer to the urban life of the future and to the regeneration of our present towns. The workshop addresses the neighborhoods of modernism, acknowledging that all our European towns have a valuable urban and architectural heritage built in the last part of the 19th and the first half of the 20th century: a heritage that is currently confronted with new contemporary requirements, opportunities and serious risks.
The workshop follows the same experimental format adopted by the II° workshop in Ireland, 2009. Participants are asked, through the medium of a real site, to reflect on some key issues that impact on conservation/restoration practices and theory and on how these may be explored in teaching. The aim is to create a challenging, dynamic and interactive atmosphere able to stimulate the participants' reflective papers to be written after the event.
The real context for the workshop is a modernist neighborhood of Bucharest also assumed as a metaphor of other similar cases in several European towns.
Three inter-connected issues are put forward for consideration:
The theoretical/methodological approach to the problems of conservation/ regeneration of modern parts of the cities, with regard to its different levels and disciplinary aspects.
The urban planning, management, economic and social aspects of the question with special regard to tutorship and development.
The design/project and process to intervene on single buildings, with all their technical contents, goals and criteria.