Accomodation

Getting there from the airport
Most international flights use the Henri Coanda Airport (formerly Otopeni), on Şos. Bucureşti-Ploieşti, 16km north of Bucharest (www.otp-airport.ro).
Băneasa Airport (Şos Bucureşti-Ploieşti 40), 8km north of the centre, is used for some low cost flights.
Băneasa is 20 minutes from the centre. Henri Coanda is about 40 minutes from the city centre.
To get to the centre from Henri Coanda, catch 783 Express Bus from the downstairs ramp outside the arrivals hall; you'll need to buy a ticket from the stand at the north end of the waiting platform (to right as you exit). Also from Băneasa airport you can take the bus 783. Go down at the University Square; the bus station (Piata 21 Decembrie 1989) is in front of the old building of the School of Architecture. Follow Edgar Quinet Street up to Calea Victoriei, then turn right and you'll find the hotel on the right hand.
A taxi from Henri Coanda to city center should cost no more than 15-20 euros.
Common taxi rates are about 0.40 – 0.80 euros (1.4 – 3.5 ron) per kilometer. Rates are posted on the door. Check to see the meter is on.
Reputable and cheap companies include Cobalcescu (phone: 0219451), CrisTaxi (0219461), Meridian (0219444), Taxi Sprint (0219495), Prof Taxi (0219422), Fly Taxi (0219440).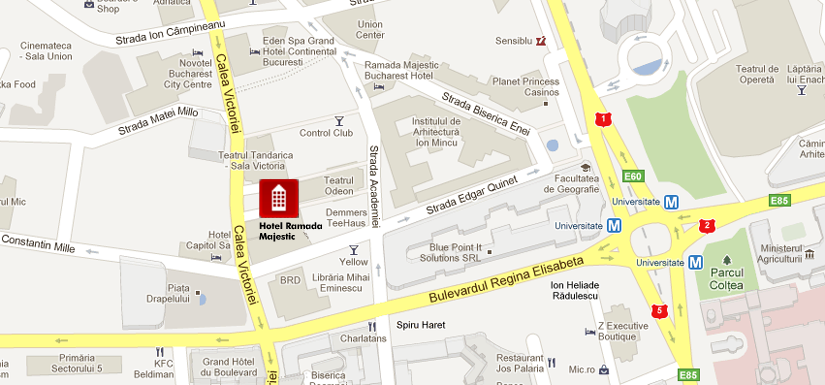 The hotel is situated within walking distance from the "Ion Mincu" University of Architecture and Urbanism.
Money
1 EUR = 4.2 RON
Don't use the exchanges in the baggage claim hall of Henri Coanda airport as they offer the worst rates in the city. There are several ATMs in the arrivals hall. In town ATMs are around every corner.